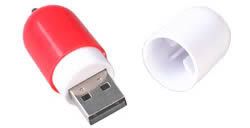 This 4GB sleek and portable USB 2.0 flash drive is pill shaped, please don't swallow it! This quirky external storage device is a great way for everyone such as students, professionals and those on the move to transport their computer files with ease.
Pill Drive Features
Stylish design
Small, sleek and portable
Capacity: 4G
Interface: USB port, plug and play, no need for external power
Operation system: Windows 98 / SE, Windows ME, Windows 2000, Windows XP, Mac OS 9.0
High speed USB 2.0
USB self-powered, no external power required
Take large files from work to home without using e-mail or carrying notebooks
Ready to withstand harsh working environments and protect your valuable data
The Pill Shaped 4GB USB 2.0 Flash Drive is available online from Vavolo.com.