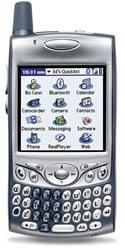 Palm has announced that the Treo 650 smartphone is now available in Colombia through Comcel, a leading cellular operator in Colombia.
Palm has recently launched the Treo 650 smartphone throughout the region. The Treo 650 is an 'all-in-one' quad-band smartphone specially designed to operate with EDGE network operators.
The award-winning Palm Treo 650 smartphone makes it easier than ever for mobile professionals to stay connected. With carrier activation, the Treo 650 combines a compact, full-featured mobile phone with email, an organizer, messaging and web access, allowing users to organize and simplify their business and personal lives all in one place.
The Treo 650 offers integrated Bluetooth technology, a higher-resolution screen, multimedia capabilities, a removable battery, non-volatile memory, an improved backlit keyboard, and support for direct corporate email access to Microsoft Exchange Server 2003 using VersaMail email software.