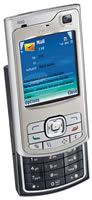 3G has reviewed the Nokia N80 and write about the phone's camera: "When it comes to still pics, the N80 just falls short of the Sharp but still delivers quality snaps. Its CMOS lens can't compete with the Sharp's CCD-quality technology in terms of colour representation and detail and, unlike its Nseries stablemate, the N91, there's no Carl Zeiss lens. The lack of autofocus is disappointing, although it will, naturally, still knock spots off any other camera-phone on the market. The 20x digital zoom works fine, but obviously picture quality deteriorates as you move in, while a macro switch sits just below the lens."
The Nokia N80 is a "high-class smartphone", here's GSMArena's views on this stylish handset: My very first impression: how small it is! Due to its slide construction, Nokia N80 is smaller than Nokia N70. When you look at both phones from abeam, Nokia N80 seems thicker than N70. Yet, according to the specifications, both phones have the same measures – 24 mm. Holding Nokia N80 in my hand, it felt a little bit heavier than the forerunner, but it could be nothing more than a subjective impression for Nokia N80 is only 4 grams heavier than N70.
A short summary of the Nokia N80 by Mobile9: The Nokia N80 reflects and harmonizes work and personal life through leading on-the-go productivity tools, multimedia entertainment and mobile photography in a design that communicates success. With great ergonomics for image capture, the Nokia N80 is also an excellent mobile photography device for capturing, collecting and sharing moments and memories.
The Nokia N80 offers multimedia functions with pleasing design, here's AAS take on the Nokia N80's design: The Nokia N80 is pleasing to the eye and is finished in a mixture of chrome and metal, similar in feel and looks to the N70, which gives the whole device a substantial feel. The Nokia N80 will be available in two versions – silver and black, both are constructed of similar materials, but the black version has the advantage of hiding smudges and fingerprints more than the silver version.
Infosyncworld write about the Nokia N80's camera and music player: What the Nokia N80 has that the N90 doesn't, however, is a 3 Megapixel camera which outperforms that of the N90 by a full Megapixel. The Nokia N80 may not have the Carl Zeiss lens and autofocus of the N90, yet is able to record stills as well as video at CIF resolution, storing content either to the 40 MB of non-volatile onboard memory or miniSD memory expansion cards which can be had in capacities of up to 2 GB at the time of writing.
Also benefiting from miniSD cards is the music player of the Nokia N80, which supports MP3 and WMA formats as well as AAC. Rounding out the feature list is a stereo FM radio with Nokia's Visual Radio client present, as well as USB 2.0 for high-speed wired data transfers and the presence of a front-mounted 0.3 MP camera to enable video calls.
More about the Nokia N80's camera and memory from Engadget: The Nokia N80 goes for the pixels with a 352 x 416 screen and a 3 megapixel camera. We saw some pics last month and it looks like they were spot on: it is a slider, Nokia's first smartphone in such a form factor. There is an extra camera for video calls, but sadly all these pictures and videos won't have much of a home with the 40MB of included memory. Luckily you can upgrade with a miniSD card, or spend your time juggling files with the included USB 2.0, Bluetooth, or WiFi, but some more internal storage would've been nice. This guy is also quad band GSM and supports EDGE, so it looks like we just might be seeing it Stateside.
Letsgodigital write about the Nokia N80's USB 2.0 support: Supporting a wide range of digital music formats, the Nokia N80 boasts a digital music player as well as stereo FM radio and support for Visual Radio, which provides listeners with a richly interactive information channel, including information on the song and artist currently playing. Furthermore, thanks to the integrated UPnP technology, transferring music between the Nokia N80 and a compatible PC is easier than ever. Alternatively, users can transfer their favorite music via USB 2.0 by simply dragging and dropping from a compatible PC onto the device. As a result of its powerful music features, the Nokia N80 qualifies as a part of the Nokia XpressMusic device range. The XpressMusic feature brand makes it easy for consumers to identify Nokia products that provide a superior mobile music experience.