Nokia N70 Cell Phone Reviews.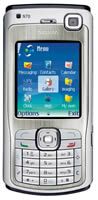 'Om Malik' has a review of the Nokia N70's camera: Since Nokia is positioning Nokia N70 as a digital camera, lets take a look at its camera. The Nokia N70 has two cameras – one in the front and one in the back. The front camera is 0.3 megapixels, but it is for making video calls, which are not quite possible yet in the US, so don't really know how it works. The Nokia N70's main camera is better than anything I have used, and I have become quite a shutter-bug.
'Mobiledia''s summary of the Nokia N70: the Nokia N70 comes fully equipped with stereo FM radio, a digital music player and new 3D games. A powerful tool for information management, the Nokia N70 offers a full set of smartphone features, including email functionality with attachment support, Internet browser, video streaming and 3G-enabled features such as two-way video calling and video sharing.
'MobileBurn' review the Nokia N70: The Nokia N70 shares most of the features of the two higher-end N series handsets, the N90 and N91. This includes a Series 60 user interface, a new photo gallery system with advanced image editing (red-eye reduction, resizing, etc), and the ability to share playlists created for the stereo media player with other users via Bluetooth.
Like the other N series handsets, the Nokia N70 will come with an instant image synchronization system that will automatically copy your photos over to your PC when you connect it. Nokia is also building-in support for the Adobe photo album product, letting you name the album when you shoot it instead of having to wait to do that at a later date on the PC.
Another review about the Nokia N70 camera from '3G': The Nokia N70 is geared heavily towards imaging, with a two megapixel lens and embedded photography software. Unlike the N90, this Nseries member doesn't pack a Carl Zeiss lens and we have to say the difference in quality is apparent. The Nokia N70 does let you play with the scene, colour tone, white balance and flash settings so you can adapt the Nokia N70's camera to your surroundings and, like the 6680, the Nokia N70 has a broad protective slider shutter cover that when opened, automatically fires up the camera. You can also use the Nokia N70 like a standalone digital camera with a shutter button residing on the side of the Nokia N70.