Nokia 9300i smartphone coming soon in 2006
Nokia today expanded its portfolio of business devices, with an addition to its smartphone range, the Nokia 9300i smartphone. Incorporating WLAN, Qwerty keyboard, colour screen, support for email solutions and an attachment viewer, the Nokia 9300i smartphone is the perfect combination of design and function.
The Nokia 9300i smartphone enhances productivity by providing a reliable data connection for downloading large files or email with attachments. The Nokia 9300i smartphone's 80 MB of memory capacity provides ample space for file storage, and the wide colour screen makes it easy to view different types of documents, spreadsheets, presentations and web sites. Add outstanding voice capabilities and the Nokia 9300i smartphone is a great all-in-one device.
Nokia continues to offer more choices for individuals looking for fully featured smartphones built specifically for business use,
said Niklas Savander, senior vice president of Nokia's business device unit for the Enterprise Solutions business group.
Our business customers want continuity as well as a constant stream of improvements in our products. The Nokia 9300i smartphone delivers just that as it combines WLAN and other features with a suite of powerful applications and email solutions.
The Nokia 9300i smartphone supports five party conference calling via an integrated speakerphone and multiple email clients (with attachments), including BlackBerry Connect, Nokia Business Center, IBM WebSphere, Oracle Collaboration Suite, Seven Always-On Mail and Visto Mobile. The Nokia 9300i smartphone also integrates infrared and Bluetooth capabilities, giving users two different ways to wirelessly synchronize their devices to a desktop PC or laptop, as well as exchange data with other mobile devices.
Nokia 9300i smartphone availability
Planned availability for the Nokia 9300i smartphone is the first Quarter of 2006. Nokia will offer one tri-band version of the Nokia 9300i smartphone optimized for mobile networks in Europe and Asia, capable of operating in compatible GSM networks in the Americas. 29/11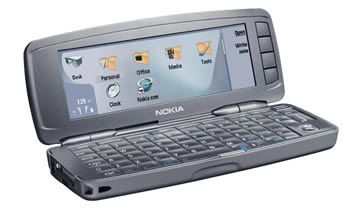 Nokia 9300i Reviews
Here's how Infosync sum up the Nokia 9300i: Like its predecessor, the Nokia 9300i Communicator is a device which gets most things right in the hardware department, but stumbles repeatedly what concerns software. A fantabulous display is hampered by poorly utilized screen estate; the powerful browser by sluggish performance; and PIM and e-mail synchronization by slow and poorly implemented local support as well as a complete lack of groupware support…