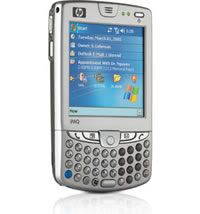 The HP iPAQ hw6900 Mobile Messenger gives users all the resources to support a business whilst away from the office, incorporating a mobile phone, access to Wi-Fi wireless hotspots, data networks, digital content and services, and enhanced security.
The Microsoft Windows Mobile 5.0 Messaging and Security Feature Pack provide HP iPAQ hw6900 users to instantly obtain emails, calendar items, tasks or contacts without receiving extra email costs.
The slender HP iPAQ hw6900 is the first PDA with four dedicated radios so users can stay connected in more places around the globe. Enclosed are: Quad-band GSM/GPRS/EDGE, Wi-Fi, GPS(4) and Bluetooth wireless technology. Furthermore, the Bluetooth technology offers wireless communication with other Bluetooth devices such as headsets, printers and car hands-free kits.
The HP iPAQ hw6900 is also compatible with Skype Mobile software, providing users to savour high-quality voice calls via high-speed Internet connections.
Further built-in characteristics of the HP iPAQ hw6900 feature both a keyboard – for quick and easy development of emails and messages – and a 1.3-megapixel HP Photosmart camera on selected devices for capturing photos and videos.
Integrated GPS receiver and navigation programmes are also standard with the HP iPAQ hw6900. For users in North America, Microsoft Pocket Streets 2006 comes installed to supply basic navigation help and a 60-day free trial of the HP iPAQ Navigation Software and Maps are provided on the CD to offer voice-guided, turn-by-turn navigation. For users in Europe, TomTom Navigator 5 software comes installed and users can download their choice of one city map for free, while further maps can be bought individually.
HP iPAQ hw6900 Availability and pricing
The HP iPAQ hw6900 series is predicted to be purchasable in the Asia Pacific and Europe, Middle East and Africa regions during the second quarter of this year. The HP iPAQ hw6900 should also be available in North America during the third quarter of this year. Service provider information and pricing will vary by region.