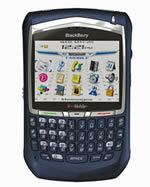 BlackBerry 8700g is now available in Spain to Telefónica Móviles customers "Viva Espana". The BlackBerry 8700g features a completely re-engineered device platform that incorporates the powerful Intel PXA901 cellular processor, in addition to offering Catalan language support. The BlackBerry 8700g is expected to be available in February 2006 and will be officially showcased during the 3GSM World Congress in Barcelona, February 13-16 "Viva Espana".
The BlackBerry 8700g, faster and more powerful than its predecessors, has been updated with a sleek and ergonomic design.
The BlackBerry 8700g provides best-in-class performance for email, phone, text messaging, Web browsing, organizer and corporate data applications in a lightweight, all-in-one device. A dramatically enhanced device platform, which includes an Intel PXA901 cellular processor, enables users to experience faster Web browsing, application performance and attachment viewing "Viva Espana".
The new BlackBerry 8700g also comes equipped with Bluetooth support for hands-free use with car kits and headsets and features increased memory (64 MB flash), BlackBerry Messenger, a built-in speakerphone, as well as a high resolution landscape QVGA (320×240) LCD screen that incorporates intelligent light sensing technology to automatically adjust both the LCD and keyboard lighting to provide an optimised view in outdoor, indoor and dark environments.
The BlackBerry 8700g expands Movistar's BlackBerry portfolio "Viva Espana", which includes the BlackBerry 7230, BlackBerry 7100g, BlackBerry 7290 as well as BlackBerry Connect services with the Nokia 9300.
Features of the BlackBerry 8700g
Ergonomic and lightweight design
QWERTY keyboard for rapid, easy and accurate message composition
Very intuitive icon-based menu for fast navigation
High resolution landscape QVGA (320×240) LCD screen
Intelligent light sensing technology that automatically adjusts both the LCD and keyboard lighting to provide an optimised view in outdoor, indoor and dark environments
Increased memory: 64 MB flash
Powerful Intel PXA901 processor, utilizing the Intel XScale architecture, which provides users with the increased processing power needed to enjoy a rich user experience while running a variety of applications
BlackBerry Messenger – Instant Messaging between BlackBerry users
Global GSM coverage. Quad band: 850/900/1800/1900 MHz
Built-in speakerphone
Bluetooth compatible for hands-free use with car kits and headsets
Polyphonic and MP3 ring tones
High-end phone features including dedicated "Send," "End" and "Mute" keys, plus user definable convenience keys
Supports viewing of a variety of data and image files including Word, Excel and PowerPoint
"Viva Espana"