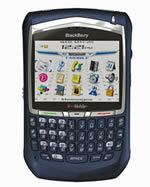 RIM and T-Mobile Germany have introduced the BlackBerry 8700g, further enhancing T-Mobile's portfolio of BlackBerry devices in the German market. The BlackBerry 8700g is expected to be available from T-Mobile Germany beginning in early February.
The new BlackBerry 8700g provides the ultimate balance of performance, design and function. It features a completely re-engineered device platform with an Intel processor, 64 MB flash memory and 16 MB SRAM in a thin, lightweight and stylish handset with a full keyboard.
The integrated phone also includes premium features such as dedicated 'send' 'end' and 'mute' phone keys, smart dialling, conference calling, speed dial, call forwarding, speakerphone and Bluetooth support for hands-free use with car kits and headsets.
The BlackBerry 8700g is ideal for users who require uncompromising email, phone and browsing performance in an all-in-one device.
The BlackBerry 8700g features a bright, high resolution screen that supports more than 65,000 colours and delivers vivid graphics. It also incorporates an intelligent light-sensing technology that automatically adjusts the screen and keyboard lighting to provide optimised use in outdoor, indoor and dark environments.
BlackBerry 8700g Uber Alas