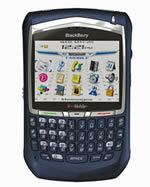 The New BlackBerry 8700g, recently made available by T-Mobile in the UK, has now been made available to O2 customers in the United Kingdom, further extending O2's existing portfolio of BlackBerry devices.
The sleek, stylish BlackBerry 8700g combines faster browsing and application performance with an enhanced screen, more memory and dedicated 'send' 'end' and 'mute' keys for voice calls, making it the ideal all-in-one device for mobile professionals. With its new sleek design and weighing just 134 grams, the BlackBerry 8700g is the epitome of style for mobile voice and data users.
In addition to a QWERTY keyboard, the BlackBerry 8700g features a high resolution 65k colour display which delivers vivid graphics and incorporates light-sensing technology that automatically adjusts the screen and keyboard lighting levels.
The BlackBerry 8700g offers quad-band functionality, supported by a battery life of up to 384 hours standby and 240 minutes talk time, for making all those important calls. The BlackBerry 8700g also features Bluetooth support for car kits and hands-free headsets.
The BlackBerry 8700g is a great addition to the range of popular BlackBerry devices already available through O2. The enhanced features of this all-in-one device will appeal to both the business and individual user,
Said Russ Shaw, Marketing Director, O2.
Providing users with all the capabilities needed to work efficiently when out of the office, the BlackBerry 8700g offers enhanced features to provide customers with a premium, fully integrated device for increased efficiency in 2006.
The BlackBerry 8700g is a breakthrough handset for customers that want email, phone and data applications in a single device,
said Mark Guibert, Vice President, Corporate Marketing at Research In Motion.
For corporate customers, O2 offers BlackBerry Enterprise Server software, which tightly integrates with Microsoft Exchange, IBM Lotus Domino and Novell GroupWise and works with existing enterprise systems to enable secure, push-based wireless access to email and other corporate data.
For individuals and smaller businesses, O2 offers BlackBerry Internet Service allowing users to access up to ten corporate and/or personal email accounts (including Microsoft Exchange, IBM Lotus Domino and most popular ISP email accounts) from a single device.