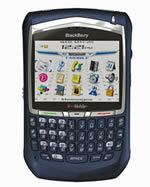 The new BlackBerry 8700g provides the ultimate balance of performance, design and function. The combined power of the BlackBerry platform, Intel processor and TIM's high-speed EDGE network, enables faster web browsing, application performance and attachment viewing.
The BlackBerry 8700g is a quad-band device with 64 MB flash memory and 16 MB SRAM. The integrated phone includes premium phone features such as dedicated 'send,' 'end' and 'mute' phone keys, smart dialling, conference calling, speed dial, call forwarding, as well as speakerphone and Bluetooth support for hands-free use with car kits and wireless headsets. In addition, the device features a bright, high resolution, landscape QVGA (320×240) LCD display that supports more than 65,000 colours to deliver vivid graphics. The display offers excellent indoor and outdoor readability by featuring an intelligent light sensing technology that automatically adjusts the brightness to optimise visibility in outdoor, indoor and dark environments.
The BlackBerry 8700g takes advantage of TIM's fast mobile network, bringing together enhanced phone and data functionality. It provides real convergence between mobility and the Internet. The BlackBerry 8700g is a major innovation that delivers breakthrough performance together with a striking colour display and a sleek and stylish design, The BlackBerry 8700g is an excellent choice for customers who want an unrivalled voice and data solution to help keep them connected and productive.
Intel is pleased to be a part of RIM and TIM's BlackBerry 8700g launch in Italy, Utilizing the Intel PX901 cellular processor with the Intel XScale architecture, the BlackBerry 8700g leverages TIM's exceptional EDGE network to provide a rich user experience. The BlackBerry 8700g operates together with BlackBerry Enterprise Server and BlackBerry Internet Server.