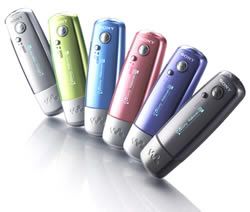 Incorporating radical style with unmatched staying power, Sony yesterday declared the hottest addition to its much admired series of Walkman digital music players. Through its fast-charging function which can provide three hours of battery life from just three minutes of recharging, Sony's newest Walkman series provides one of the quickest battery charges available. The new Sony Walkman series also boasts a first class playback feature, with 28 hours playback via the ATRAC3 format and an additional 27 hours with MP3.
The new Sony Walkman has built-in flash memory, with devices ranging in capacity from 512MB to 1GB and 2GB. The new Sony Walkman heightens the present range of Walkman digital music players offering unrivalled sound quality in a user-friendly, fashionable device.
The new Sony Walkman is compatible with popular digital music formats like MP3, ATRAC and unsecured WMA files. The device enables easy downloading by direct connection via USB port. Each Sony Walkman includes SonicStage 3.4 software, for trouble-free management and transfer of music files. The new Sony Walkman provides high-speed transfers via direct USB, and along with Sony's ATRAC compression technology, the music player provides a maximum storage of up to 90 CDs for the 2GB model, 45 CDs for the 1GB and 22 CDs for the 512MB at 48kbps. With the 1GB and 512MB players, an FM Tuner is also optionally available giving listeners an array of audio options.
The new Sony Walkman adds to the design achievements of its ancestors by supplying a compact polycarbonate "stick" in a series of lively colours including pink, blue, silver, violet, black, and lime green. The new Sony Walkman will come with a new range of trendy add-ons including neck strap headphones, case, and armband for music lovers on-the-move. The new Sony Walkman should be available in the UK and across Europe later this month.