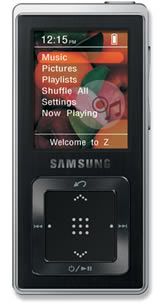 The Samsung Z5 is a sleek music player which, weighs just a mere 58g and its small size ensures that it'll fit easily in pocket or handbag. Although the YP-Z5 is so compact and thin it's packed with knockout features such as, DNSe Portable 3D Sound Technology, a devoted sound engine developed to create music in 3D surround sound.
The Z5 from Samsung also incorporates into its slim form 4GB of memory, capable of storing up to 2 thousand WMA format files, and up to 130 thousand images. Not only is the audio player big on storage it's also a high-endurance athlete too, the Z5's rechargeable battery can provide nearly 35 hours of playback, great for those long trips.
The Samsung Z5 provides music to the ears not just in one way, but in an array of formats including MP3 and WMA. The YP-Z5 also has the ability to download music straight from the Internet via Windows Media DRM 10 / PlaysForSure technology, audio files can be downloaded from websites such as Virgin Digital and HMV.
The Z5 from Samsung incorporates a 1.8 inch colour TFT-LCD screen enabling the user to view images and created slideshows in wonderful colour. The YP-Z5 also provides an easy-to-use, customisable menu interface, allowing the user to change the player's background to match their own style and tastes.
The Samsung YP-Z5 will be available in three different storage capacities, 1GB, 2GB and 4GB, the Z5 will also be available in two colours, black and silver. The Samsung Z5 music player has been available since February in North America at $199 (2GB) and $249 (4GB)., it will also be purchasable in the UK sometime soon.