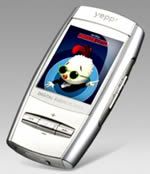 The Samsung YP-T8N is more than just a music player, the Samsung YP-T8N can play MP3, ASF, WMA, and OGG audio files, and can also display JPEG pictures and MPEG4 videos. The 3.7V Li-ion battery powered Samsung YP-T8N resembles a mobile phone, and measures 43.5mm X 83mm X 15.5mm and weighs just 55grams.
The Samsung YP-T8N digital music player has a 1.8inch TFT LCD display for viewing movies, the Samsung YP-T8N comes with a FM Tuner so you'll never miss your favourite radio show. The YP-T8N also supports Samsung's new revolutionary DNSe technology.
The Samsung YP-T8N digital audio player is currently available in Korea, in three different sizes. The 1GB version of the Samsung YP-T8N is priced at around $254 USD, 2GB at $295 USD and 4GB $327 USD.