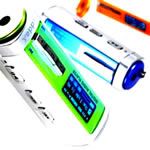 The Samsung YP-T55 is a digital audio player, which looks like and is around the same size as a tube of Lucy Pinder's lipstick. Coming in three sizes, the largest memory model of Samsung YP-T55, will only be 1GB, not really worth shouting, about, at such a small size, it may seem a fair compromise.
The Samsung YP-T55 can play MP3's, OGG's, WMA's and ASF's and comes with a FM Tuner, so you'll never miss your favourite radio show. The Samsung YP-T55 also includes "Digital Natural Sound Engine", 3D audio processing and Lyric Station support, now you can happily sing-along with "Cryptopsy" till your hearts content.
The Samsung YP-T55, is like a "Duracell Bunny", it will run for 18 hours straight on just one AAA battery, how much "Britney" can one man take? Unfortunately the Samsung YP-T55 will only be available in Korea, and is priced around $185 USD, you never know, one might turn-up on eBay.