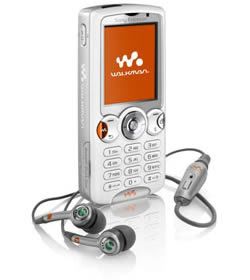 The white Sony Ericsson W810i with grey accents features a dedicated MP3 Player menu and supports audio formats like MP3s and AAC. The phone incorporates buttons for Play/Pause/Stop/Skip Track/Volume for easy navigation and has the Mega Bass option for those who like their music a tad heavier.
The white Sony Ericsson W810i phone includes internal memory of 22mb and comes supplied with a 512MB memory stick although the phone is expandable up to a whopping 2GB. The white W810i also features a 2-megapixel camera with auto-focus and flash. The quad-band white Ericsson W810i handset can also connect to various devices via Bluetooth, Infra-red and EDGE.
The white W810i from Sony Ericsson is expected to be available sometime during the third quarter of 2006, price not yet confirmed.