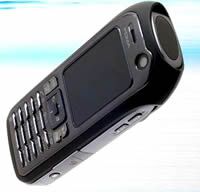 The Sony Ericsson SO902i-wp is a waterproof phone which features a 1.3 megapixel camera instead of the SO902i's standard 3.2 megapixels.
I don't think the SO902i-wp phone has been designed by Sony Ericsson to be used while swimming or diving. The mobile is only waterproof to depths no more than 3 feet and can stay submerged for up to half-an-hour, so I suppose it'll survive a dip in the bath or toilet.
The Sony Ericsson SO902i-wp will be available to buy for the DoCoMo 3G network in Japan for ¥35,000.