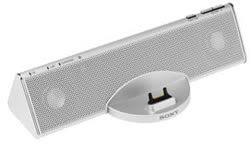 For those with Sony Ericsson's latest Walkman phones, the compact CPF-MP001 music cradle incorporates stereo speakers and a 25W (RMS) sub-woofer, turning your mobile phone into a stylish audio system. The Walkman phone simply slots on to the mount at the front of the music cradle, allowing easy access to all your favourite music tracks.
Although the Sony Ericsson MP001 phone cradle is such a small device, it's absolutely packed with the latest features and provides high-quality audio due in part to Sony's S-Master digital amplifier. S-Master technology is included within many of Sony's latest products, including Home Theatre systems and car audio systems.
The CPF-MP001 from Sony isn't just a set of speakers for your phone, it also provides an integrated FM tuner enabling the user to keep up with their favourite radio shows, and, so you don't have to keep getting up of the sofa to turn the music up, the MP001 also includes a remote. The remote offers simple functionality, volume, bass and treble et cetera.
The MP001 Phone Cradle from Ericsson can also charge it's own batteries, pretty good hey? Currently I have no idea of when the device will be available in the UK, same goes for price too.