Siemens SK65 Burlwood – Modern mobile phone technology in refined burl wood.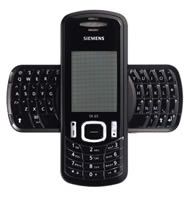 Mobile phone technology meets individual style: Every device in the new Limited Edition Siemens SK65 Burlwood range is distinctive and unique. The backs of these exclusive mobile phone models are decorated with burl wood from the thuya tree*, which grows in the wild. No Siemens SK65 Burlwood phone is like the other. Not just heat, drought and fire, but also animal bite-marks create an individual grain and give the wood of this conifer its unique character. The ethereal oils in thuya wood also lend a pleasant, natural fragrance to the Siemens SK65 Burlwood.
An optical focal point on the back of the Siemens SK65 Burlwood is provided by the brushed stainless steel insert discreetly engraved with "Siemens Limited Edition." The remaining parts of the case are finished entirely in black. A black case back is also supplied in addition to the precious wood back.
Complete email convenience is ensured on this mobile with BlackBerry Built-In technology and the revolving x2 type full-sized keyboard. Time spent traveling or waiting can now be put to productive use anytime, anywhere using this phone. The Siemens SK65 Burlwood has received several awards, among them the renowned IF Design Award and the coveted Reddot Design Award. The Limited Edition Siemens SK65 Burlwood will be available from the end of July 2005 in a strictly limited edition in selected specialist shops and online via www.siemens.com/shop
* The thuya tree is a natural, renewable resource and is not subject to any endangered species regulations.