Samsung X495 now available to T-mobile customers.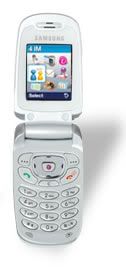 The Samsung X495 is a compact flip phone that comes with many features. Find out who's calling you with caller ID on the Samsung X495's external screen, and stay in touch with friends using AOL Instant Messenger or Yahoo! Messenger. You can also use t-zones to customize your Samsung X495 with T-Mobile's HiFi Ringers, MegaTones, and Wallpapers.
Samsung X495 information
5 hours of Talk Time with the Samsung X495
Samsung X495's standby time of 192 hours
The Samsung X495 Size: 3.5 x 1.9 x 1.0 Inches
The Samsung X495 weighs just 3 ounces!
Personalization your Samsung X495
Download MegaTones that sound like the real thing on the Samsung X495!
Play Bubble Smile, Fun2Link, Mobile Chess, or Ultimate Golf Challenge, or download new games from Download Fun with the Samsung X495
Jazz up the Samsung X495 with full-color Wallpapers
Send text messages to your friends at T-Mobile or other wireless carriers with the Samsung X495
Plus much more
Samsung X495 Reviews
Samsung X495 reviews coming soon.
Samsung X495 T-Mobile Pricing
Thanks to 'Darla Mack' I can confirm the pricing of T-Mobile's Samsung X495.
The Samsung X495 appears on T-Mobile.com's handset list for both postpaid and T-Mobile To Go prepaid customers. The price for postpaid is $129.99 minus $80.00 instant rebate if purchased online. The price for T-Mobile To Go is $99.99 with 60 minutes of airtime.