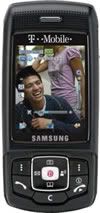 The Samsung T709 will soon be available to customers in the U.S. Announced at the CTIA Wireless 2006 trade show in Las Vegas last week, the T709 is the latest slider phone from Samsung. The mobile phone should be pleasing to T-Mobile users as the Samsung T709 will be one of numerous phones from T-mobile to support WiFi.
The Samsung T709 is a tri-band GSM phone which supports EDGE and WIFI functionality.
The phone includes a 1.3 megapixel camera, MP3 player and speakerphone.
The T709 also incorporates a 262K colour TFT display within its sleek form (22mm thick).