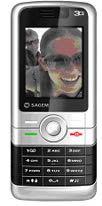 The Sagem my800X is perfect for people who want the latest 3G functions in a compact design. With its surprising measurements, 100g for a slim 16mm, the Sagem my800X is a mobile phone you can take anywhere. Exceedingly ergonomic, it fits comfortably in the palm of the hand to guarantee optimal usability. The Sagem my800X has a glossy black and silver casing and clean lines which will look good in any situation, trendy or classic. In short, a treat for mobile phone design enthusiasts.
The Sagem my800X blends the best in latest multimedia technology while still being easy to use. It provides a wealth of broadband services including direct access to Internet, WAP and email functions. With the my800x from Sagem it's easy to share your experiences with friends and family in real time. A brilliant bonus for key events: like purchasing your first home or giving your best friend a preview of your wedding dress!
Packed with features, the Sagem my800X has two incorporated cameras: a VGA camera on the front side and a 1.3 megapixel camera on the back; ideal for sharing photos, with the option to share your pictures by MMS. You can also use the video-phone feature to hold long face-to-face conversations over the display.
Video fans will be happy to download their favourite programs, especially as the Sagem my800X's large colour display (262k colours) is designed to suit experienced users who will be pleased about its high resolution at 176×220 pixels.
The tri-band Sagem my800X mobile phone also features an MP3 player for the music devotee out there! The mobile should be available from June 2006, no price has been set.