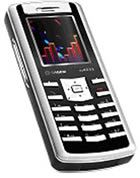 The Sagem my405X is an irresistible mobile phone which provides a dazzling array of features. The handset includes an extremely usable music player, fashioned to be user-friendly, the user can instantly access the phone's MP3 player using the dedicated buttons on the side of the mobile. Provided with the latest GPRS technology, the Sagem my405X also includes 64 MB of storage and a mini-USB cable which gives the phone a huge downloading capacity that will gratify the most hard-to-please music fanatic.
Capturing images with the Sagem my405X's VGA camera will evolve as a feature you cannot live without thanks to the phones large (128×160 pixel, 65k colours) TFT display providing unstoppable quality. And for those who like to share their favourite photographs with friends and family, it couldn't be easier; just send your creations by MMS.
The tri-band Sagem my405X also provides up to 3 hours of talk time and 250 hours on standby, the phone should be available sometime during the second quarter of 2006.