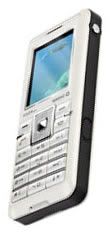 SAGEM my400X, a mobile phone recently launched by Sagem, is a perfect mix of technology and design. Extra-Slim and light, it is the ideal companion of people fond of leisure and simplicity. At the same time Extra-Slim (14mm thickness), light (85gr) and compact, SAGEM my400X offers ease of use thanks to its large keypad and its optimised dimensions (105×46x14 mm) fitting perfectly in the hands. The SAGEM my400X's sober lines and its refined design will seduce the most demanding consumers.
For the mobility addicts, SAGEM my400X offers a built in hands free feature with a high quality sound. Wherever they are, users would be able to capture the most precious moments thanks to its VGA digital camera (300.000 pixels) and to exchange them instantaneously through the MMS Multimedia Messaging Services.
Its 65k colour screen (128×160 pixels) allows an ergonomic use. With a powerful MMI, it offers a quick access to all services: WAP2.0 over GPRS, latest JAVA version: MIDP2.0, download of polyphonic and HiFi ringtones, etc.
SAGEM my401X : bluetooth with tri-band on top
SAGEM my401X has a very high level of connectivity with its bluetooth features, Synchronisation features between PC and mobile through SyncML (Phone Book, Agenda, etc). With its tri-band radio, it can be used all around the world.
Camera phones have always been the corner stones of our SAGEM mobile phones range. SAGEM my400X allows to reinforce our position on the market with a very attractive offer mixing design and features. In the trend of already launched Extra Slim handsets, this new mobile illustrates our product strategy.
Declared Thierry Buffenoir, deputy CEO of Sagem Communication.
This new range of compact products will be enriched regularly during 2006 either, in low end and for multimedia.