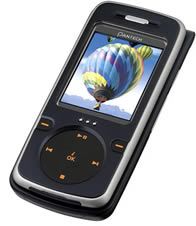 The Pantech G-3600V, introduced last week at CeBIT in Hanover is a slider type GSM phone which has the same look and feel as an iPod. The G-3600V from Pantech incorporates into its sleek form a music control wheel not dissimilar to the one found on Apple's iPod range.
Although the storage capacity for the G-3600V is unknown, Pantech's new GSM handset does include a music player with 10-band graphic equaliser capable of playing audio formats such as MP3, WMA, AAC, AAC+ and AMR.
The Pantech G-3600V also incorporates into its slender form, a 1.3 megapixel camera for capturing stills and video plus a 1.9 inch 262K colour TFT LCD display with a resolution of 176 x 220px, ideal for reviewing photographs and captured video.
The G-3600V from Pantech measures 103mm x 46.8mm x 17.9mm and weighs just 96grams, the phone will also provide email, MMS/SMS, Java, Polyphonic ringtones and Bluetooth connectivity.
The Pantech G-3600V should be available sometime later this year, the price of this mobile phone is currently unknown.