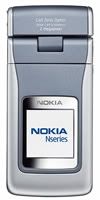 About have reviewed the Nokia N90 TV phone, here's an excert from the review: I loved the Nokia N90. Every moment of the 2 weeks during which I used it. This akward transformer-like design makes the Nokia N90 a truly integrated camera phone: Turn the upper part, you're in camera mode! Swivel the flip up part like a video-cam side display and the Nokia N90 is in video mode. As straightforward as it gets! Not to mention the superior photo quality (by camera-phone standards) delivered by the Nokia N90's 2-megapixel cam, its excellent full duplex speakerphone and the lovely high-colour, high-resolution display.
Tech Tree have reviewed the Noka N90, here's a excerpt about the N90's camera: The Nokia N90 has a professional Carl Zeiss lens in the camera. The camera on the Nokia N90 is a 2-megapixel that gives great quality 1600×1200 resolution pictures. However, the quality of pictures isn't as good as the ones taken by the Sony Ericsson W800i. Interestingly, the camera on the Nokia N90 is not a CCD as many people may be led to believe by the presence of Carl Zeiss lenses – it's a CMOS sensor. Even the W800i has a CMOS sensor, but it still works much better. There's an excessive amount of grain that occurs in low light conditions where the W800i fared much better. The Nokia N90 comes with almost all the features of a proper digital camera, i.e. a proper flash with red eye reduction, macro and other modes, white balance and colour adjustments, and various other options like PictBrige for direct photo printing. When I say proper flash, I mean a flash that actually works when taking pictures in dark environments like a pub. With good quality video recording and a full viewfinder that the internal screen becomes when twisted 90 degrees, the Nokia N90 is as much of a camera/camcorder that a phone can get.
FirstAdopter.com has reviewed the Nokia N90, here's a little about the phone's camera: The Nokia N90 camera phone with is Carl Zeiss lens supports 2.1 megapixel pictures and once again I believe it is the "best in class" on the market today for quality. Pictures come out sharp and clear in well lit situations. Yes they aren't as good as the shots on my Canon G3, but for a camera phone, it you can't beat it.