Two Nseries multimedia devices receive prestigious commendation from Popular Science magazine, Nokia press release:
New York, NY, USA – Nokia today announced that the Nokia N90 and N91, two flagships of the company's Nseries range optimized for imaging and music respectively, were honored with Popular Science magazine's "Best of What's New" Award in the publication's annual search for the top 100 technology innovations of the year.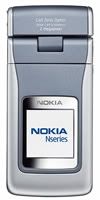 Packed with advanced features to capture and print high quality photos and video, the Nokia N90 is the first mobile device to feature superior Carl Zeiss Optics plus boasts a two megapixel camera with autofocus, 20x digital zoom and high quality video capture with on-device editing capabilities. Facilitated by its dual screens, the Nokia N90 features two ergonomic modes for instant photo and video capture. With Nokia's XpressPrint printing solution, users can select from a range of mobile printing options, including PictBridge, connected directly to a compatible photo printer with a USB cable; wireless printing over Bluetooth wireless technology; or by extracting the MultiMediaCard from the side of the phone and inserting it into a compatible printer.
The Nokia N91 is optimized for connected mobile music enjoyment, including the ability to download new songs, manage music collections, as well as create and share playlists on the go. Transferring files between the Nokia N91 and a compatible PC is simple with the built-in WLAN, Bluetooth or USB connections, and downloading songs over the air is quick with support for GPRS/EDGE networks. The Nokia N91 delivers a premier music experience with its 3.5mm stereo headset jack, integrated 4GB hard disk with room for up to 3000 songs and support for a wide range of digital music formats. Encased in stainless steel, the Nokia N91 has dedicated music keys on its face, which slide down to reveal the phone keypad.
Popular Science's award is a tribute to Nokia Nseries innovation and we are honored to be recognized in this way,
Nigel Rundstrom, vice president of Multimedia for Nokia.
Both the N90 and the N91 merge incredible multimedia experiences with leading-edge telephony features. This combination of mobility and high performance creates entirely new ways for people to enjoy their favorite pictures and music.
Best of What's New is the ultimate Popular Science accolade, representing a year's worth of work evaluating thousands of products,
Mark Jannot, editor of Popular Science.
These awards honor innovations that not only influence the way we live today, but that change the way we think about the future.
Each year, the editors of Popular Science review thousands of products to find breakthrough products and technologies that represent a significant leap in their categories. The winners – the Best of What's New – are awarded inclusion in the much-anticipated December issue of Popular Science, the most widely read issue of the year since the debut of Best of What's New in 1987.
Best of What's New awards are presented to 100 new products and technologies across 12 categories, including Auto Tech, Aviation & Space, Cars, Computing, Engineering, Gadgets, General Innovation, Home Entertainment, Home Tech, Personal Health, Photography and Recreation.
The Nokia N91 will begin to shipping to retailers around the globe in early 2006. More information about the device is available at http://www.nokia.com/N91.