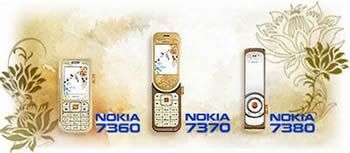 Nokia L'Amour Collection, fashion mobile phones, influenced by craft, ethnic and cultural contrasts.
Nokia has introduced a collection of three trend-inspired mobile phones, the Nokia 7360, Nokia 7370 and Nokia 7380. Each model in the Nokia L'Amour Collection offers a beautiful mix of contrasts – infusing cultural and ethnic influences with luxurious touches of the unexpected. Hints of vintage and craftsmanship, are fused with natural materials, colours and patterns, all carefully crafted and layered with a passion for detail.
For many consumers, the mobile phone has truly become an extension of their personal style – it is a fashion statement as well as an advanced communications device,
says Alastair Curtis, Vice President of Design at Nokia's Mobile Phones division.
Every detail of these products, from the nature-inspired graphics to the velvet-lined pouches, has been carefully considered with the style-conscious individual in mind. We are very confident that consumers who appreciate design and attention to detail will fall in love with the Nokia L'Amour Collection.
In the design and development of the Nokia L'Amour Collection, Nokia's Design team looked to materials such as amber, ceramic, turquoise, silk and enamel for inspiration. Craft techniques, such as enamelling and etching, added a creative spark to the graphics, materials, finishes and colours selected for each model in the Nokia L'Amour Collection.