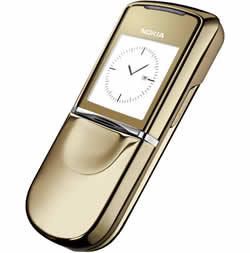 Inspired by nature, and one of its most beautiful elements, gold, Nokia today unveiled the Nokia 8800 Sirocco Gold – a bold and prestigious new style statement. Encased in a luxurious 18-carat gold plating, the precisely crafted Nokia 8800 Sirocco Gold combines timeless design with a contemporary flair, resulting in an exclusive display of personal style and elegance. The Nokia 8800 Sirocco Gold is now available in select markets, with an estimated retail price of EUR 1000, before taxes or subsidies.
The Nokia 8800 Sirocco Gold is set to continue Nokia's strong legacy in exclusive and highly desirable style accessories,
Heikki Norta, Senior Vice President, Mobile Phones, Nokia.
The Nokia 8800 Sirocco Gold remains true to the "form follows function" mantra of Nokia designers and engineers – a tradition built upon decades of experience in mobility.
Combining its heritage of highly desired communication devices with organic designs inspired by surfaces found in nature, the Nokia 8800 Sirocco Gold pays artful attention to the smallest details and selection of materials. A stunning achievement of craftsmanship, fine white gold accents enhance the 18-carat gold plating while the sapphire-coated, scratch-resistant glass display helps to ensure that the beauty of the Nokia 8800 Sirocco Gold endures.
Created with a dedication to perfection, the crafting of each Nokia 8800 Sirocco Gold draws from techniques mastered over hundreds of years by watchmakers and jewelers. A smooth sliding mechanism reveals a high-resolution camera (2 Megapixel) and the intuitive and ergonomic keypad. Further "inner beauty" highlights of the Nokia 8800 Sirocco Gold include a stunning color screen (up to 262K colors), and a wide array of messaging functionalities. The elegance of the Nokia 8800 Sirocco Gold is also complemented by a coordinating desk stand and color-matching Bluetooth headset.
The Sirocco wind – originating in the Sahara desert – serves as the inspiration to the design and naming of the Nokia 8800 Sirocco Gold. The harmonious blend of the strength and beauty of nature is the theme for the entire Nokia 8800 Sirocco line.