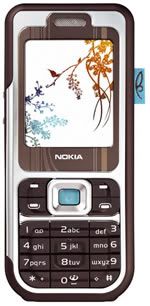 Materials, graphics and colour palette ensure the charming Nokia 7360 mobile phone stands out in a crowd. Trend-conscious men and women will appreciate the Nokia 7360's mixture of patterns and textures, which are perfectly complemented by elegant accessories, including straps and carrying pouches.
The Nokia 7360 is also available in the two signature Nokia L'Amour Collection colour schemes, coffee brown and warm amber. Each Nokia 7360 has a distinct set of graphics, screensavers and accessories.
Nokia 7360 Features
Integrated VGA camera
Stereo FM radio
MP3 ring tones
The estimated retail price of the Nokia 7360 is expected to be approximately €200, excluding taxes and subsidies. The Nokia 7360 is expected to be available during the first Quarter of 2006.
The Nokia 7360 will meet the requirements of the upcoming EU environmental legislation. The legislation will take effect in July 2006. 19/10
Nokia 7360 Reviews
Here's what Mobile9 have to say about the Nokia 7360's stylish good looks: The Nokia 7360 mobile phone was designed to be noticed. Effortlessly stylish, this tri-band phone with integrated VGA camera and video recorder will complement your own sense of style with unexpected beauty and simple confidence.
Phoney make notes about the Nokia 7360's design and craftsmanship: The Nokia 7360 belongs to Nokia's latest L'amour collection. Each model in the L'Amour Collection offers a beautiful mix of contrasts – infusing cultural and ethnic influences with luxurious touches of the unexpected. Hints of vintage and craftsmanship, are fused with natural materials, colours and patterns, all carefully crafted and layered with a passion for detail.
Here's what Mobile Review have to say about the Nokia 7360's colour scheme: The raisin and the main feature of Nokia 7360 is its garish design. Like all the models in this collection, this one is represented in two colour solutions – Coffee Brown and Warm Amber. The designers consider them to be fashionable colours of 2005-2006. We think both solutions look well, and the colours are selected well.