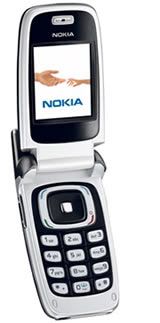 Nokia today announced the Nokia 6103, the new Nokia 6103 features an updated modern look but retains the compact size and exceptional ease-of-use that made the Nokia 6101 phone such a hit. With the added convenience of Bluetooth technology, Nokia 6103 owners will find an ever expanding number of ways to use their mobile devices.
The Nokia 6103 offers a strong feature set including a VGA camera, Nokia Xpress and dual colour screens with support for animated wallpapers and screensavers. Synchronizable contact and calendar information, voice dialing and recording and a built-in handsfree speakerphone make the Nokia 6103 a perfect productivity companion, while the Nokia 6103's integrated FM radio and downloadable content support including MIDI and MP3 ring tones, themes and games satisfy the need for fun.
The Nokia 6103 phone will be available in a GSM version primarily for markets in Europe, Africa, Asia and the Americas. The Nokia 6103 is planned to be available during the 1st quarter of 2006 and is expected to retail for approximately €200, before applicable taxes or subsidies.
Nokia 6103 Reviews
Mobiledia has reviewed the Nokia 6103 and write this about the phone's VGA camera: "with advancements in mobile imaging technology, VGA cameras are almost a thing of the past. With many devices progressing beyond 1.3-megapixels into 2.0- and above, the 6103 is below average, only capable of snapping photos up to 640 x 480px in size."