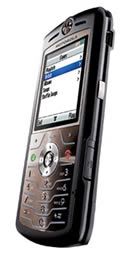 Ultra-Thin Motorola SLVR L7 Debuts Exclusively at Cingular Wireless. Cingular and Motorola, today announced the availability of the ultra-slim Motorola SLVR L7. Delivering dynamic design and superior functionality, the Motorola SLVR L7 offers the latest must-have features, including iTunes, in a Motorola one-of-a-kind iconic design.
Redefining thin at less than half an inch and weighing only 96 grams (3.5 ounces), Motorola SLVR L7's design includes sleek metal housing, a vivid colour display and precision cut keypad. Although extremely thin, Motorola SLVR L7 is fat with multimedia features, including VGA camera, video capture and playback, and 512 megabytes of optional expandable memory – ideal for experiencing Cingular's coolest downloadable content from ringtones, games, graphics and more. Additionally, Motorola SLVR L7 delivers iTunes functionality, giving music lovers the ability to carry up to 7 hours of music or 100 of their favourite songs.
We are excited to bring to market our second device with iTunes. Motorola SLVR L7 offers consumers the same iTunes experience they already know and love, now on their wireless phone. We continue to be in sync with how consumers prefer to get their music,
Said Marc Lefar, chief marketing officer, Cingular Wireless.
Motorola SLVR L7 signifies another great example of how Cingular is raising the bar as the leader in unique wireless music innovation.
Offering a host of connectivity options, the Motorola SLVR L7 delivers hands-free conversations via Bluetooth wireless technology. Cingular customers can also get the quickest access to their favourite online content with Cingular's new MEdia Net, which dramatically reduces the number of clicks it takes to gain access to news and entertainment headlines, sports scores, financial quotes, local weather, and more – all from the Motorola SLVR L7.
In the design tradition of the Motorola RAZR V3, Motorola SLVR L7 is also a game changer,
Said Richard Chin, corporate vice president, global product marketing, Motorola, Inc.
Motorola SLVR L7 redefines what consumers will expect from the candy bar form factor and proves you can have an ultra-thin, high-style mobile with a compelling feature set.
Motorola SLVR L7 is packaged with everything you need to transfer your favourite iTunes collections from your PC to your wireless phone, including a pre-installed 512 MB MicroSD card, A/C charger, USB cable, stereo headset, 3.5 mm headset adapter, and iTunes.
Motorola SLVR L7 Pricing and Availability
Motorola SLVR L7 is available exclusively in the U.S. through select Cingular Wireless retail locations or via www.cingular.com for $199.99 with a two-year service agreement.