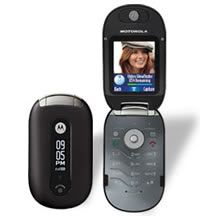 The Motorola PEBL is now available online to T-Mobile customers in the U.S.
Once you pick it up, you won't be able to put it down. The Motorola PEBL is as curvaceous as its cousin the RAZR is sharp, but they share lots of advanced features: iconic design, a digital camera with 4x digital zoom, video capture and playback, Bluetooth wireless technology, quad band international connectivity, and more. Use t-zones to customize your Motorola PEBL with HiFi Ringers (short clips of actual songs) and MegaTones, download games, or keep in touch using AIM, ICQ, and Yahoo! instant messaging — the stylish Motorlola PEBL looks great whatever you're up to.
The Motorola PEBL is available from T-Mobile for $299.99 for first time customers, $249.99 with a two year extended contract or $379.99 with a one year contract extension.
Thanks to Darla Mack for that last bit, couldn't find that info on T-Mobiles website.