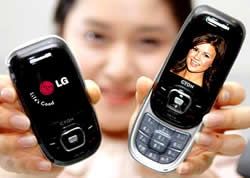 The LG KF1100 OnePhone is one of those phones which can be used as a mobile or a regular line telephone, if you know what I mean. The KF1100 from LG can be used as a CDMA mobile while outside or by using Bluetooth technology and an access point, the phone can be used inside just like your standard phone (through phone line), saving you money on calls too.
The LG KF1100 is a pint-sized mobile phone in a slider form, to me this mobile looks very similar to Samsung's E350, although this latest offering from LG looks better constructed and less plastic-y. The KF1100 OnePhone also provides Walkie-talkie type functionality, multiplayer Bluetooth gaming and support for PictBridge computer free printing.
I currently don't have any information on when the LG KF1100 will be available in Europe let alone Blighty, same goes for pricing too.