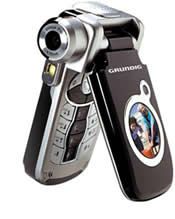 The Grundig X5000 mobile phone, revealed last week at the 3GSM congress in Barcelona. The 6 megapixel camera phone includes an audio player with extensive features.
The Grundig X5000's 4x zoom, 6 megapixel camera produces quality stills and motion picture images. The camera has a huge array of modes, something like twenty-two, more to offer than your average Chinese take-away. Pictures and videos can be viewed back in a glorious spectrum of colour, 16.7 million colours to be precise, thanks to the Grundig X5000's high resolution 680×240 display.
The Grundig X5000 also incorporates an MP3 player with, 6 mode graphic equalizer, (enough for most types of music) although not a great deal of built-in memory, but don't fret this can be remedied by the use of the Grundig X5000's MiniSD card slot, enabling up to 2GB of lovely storage.
I expect the Grundig X5000 to be made available in Europe, especially to Telefonica customers in Spain, no idea if and when it'll make it's way through France and across the Channel.