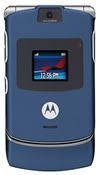 Motorola's Cosmic Blue RAZR is now available in Canada. The Cosmic Blue RAZR, the latest colour in the family of popular RAZR V3s will be exclusively available through Rogers Wireless. The charm of the sleek and iconic RAZR V3 mobile phone is increased by the rich blue colour, glossy metallic finish, and characteristic form. The Motorola Cosmic Blue RAZR phone remains the vanguard with additions such as Bluetooth Wireless, intense colour screens inside and out.
The Motorola Cosmic Blue RAZR succeeds the introduction of the limited edition Pink RAZR in support of Rethink Breast Cancer. Last October, Rogers Wireless and Motorola Canada declared the arrival of the Pink Motorola RAZR, for which the two companies gave $25 from each sale to Rethink Breast Cancer. The program raised over $150,000 for Rethink Breast Cancer.
With the launch of the Cosmic Blue RAZR V3, our customers have exclusive access to the broadest range of Motorola RAZR phones, in an assortment of colours.
Said John Boynton, Senior Vice President and Chief Marketing Officer,
Rogers Wireless.
We are thrilled to add the Cosmic Blue RAZR V3 to the Rogers line-up – the latest must-have for wireless fashionistas.
Said Colleen McClure, Director of Marketing, Motorola Canada.
Pricing and Availability: The Motorola Cosmic Blue RAZR V3 currently available for $149.99 with a 3-year service agreement from Rogers Wireless and is exclusively available at Rogers Wireless dealer and retail locations across Canada.