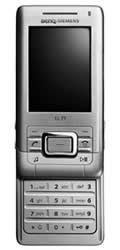 The BenQ-Siemens EL71 which was exhibited at CeBIT 2006 in Hanover last week is a 16.5mm thick slider type mobile phone, the sleek form is also complimented by its smooth, brushed aluminium casing.
The EL71 phone from BenQ-Siemens also incorporates into its compact design a 1.3 megapixel camera with LED flash and movie capture function. The mobile phone also provides a bright 2" QVGA screen capable of producing up to 262K vivid colours, great for reviewing those photos and videos.
Not only is the BenQ-Siemens EL71 great to look at and use, with its unique ProSLIDE slider mechanism the phone also provides further entertainment with its music player. The EL71's music player is capable of playing audio formats such as MP3 and AAC+, although the mobile isn't big on internal memory (16MB) it does provide a microSD card slot, capable of expanding the phones memory up to 1GB.
The EL71 from BenQ-Siemens comes provided with the IHM-100 music cable, enabling the mobile phone to be connected to your home Hi-Fi system. The EL71 should be available sometime during April 2006 and will be purchasable in the colours "Quartz Anthracite" and "Opal Black". Currently there is no information concerning the price for this mobile phone.