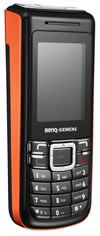 The BenQ-Siemens E61 music phone incorporates a dedicated set of music buttons on it's top, which is quite unusual, the audio players controls also give the mobile phone its unique wedge shape. Especially for music lovers the E61 provides up to 10 hours of music playback in formats like MP3 et cetera. Furthermore, song lyrics can also be displayed on the E61 from BenQ-Siemens 1.8 inch TFT screen, so you can happily sing-along until your hearts content. The mobile phone also features loud speakers and a 6-band graphic equalizer.
Music can be transferred easily from your PC to the E61 via USB DCA-130 data cable by simply using BenQ-Siemens Qsyncer software, furthermore images and audio files can be shared with friends and family thanks to MMS. The E61 phone also provides a slot for a MiniSD card, which can provide up to 1GB of storage.
Additional multimedia features of the BenQ-Siemens E61 include a VGA camera with 4x digital zoom which is placed on the back of the phone, the mobile also provides further entertainment including the preinstalled games "Hi Kevin" and "Twin". The BenQ-Siemens E61 music phone comes in two colour schemes, orange and black or silver and white, the mobile should be available during the second quarter of 2006. There is currently no information concerning the price of this phone.
Via: Tech Digest