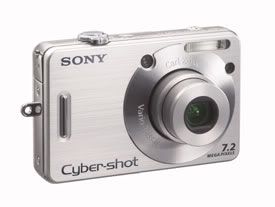 The Sony Cyber-shot W70 and W100 are outstanding in every respect, combining up to 8.1 effective Megapixels and High Sensitivity, with built-in viewfinders, and packaged in sleek metal aluminium bodies. Playing tribute to classic camera design. These top of the range Cyber-shot W-series cameras combine a Carl Zeiss Vario-Tessar 3x Optical Zoom lens with 'Anti-Blur' High Sensitivity ISO1250 on the Cyber-shot W100 and ISO1000 on the Cyber-shot W70. So, they're both ideal for sharper shots when shooting moving subjects, indoor shooting or for more natural shots without the need of a flash. The two newly developed Sony Super HAD CCDs at the heart of the cameras, results in sharp and vibrant pictures every time. The Cyber-shot W100 offers a 1/1.8" size 8.1 effective Megapixel CCD, and the Cyber-shot W70 a 1/2.5" size 7.2 effective Megapixel CCD. The cameras also feature a 6x Precision Digital Zoom, and a 14x VGA Smart Zoom on the Cyber-shot W70, that is increased to 15x on the Cyber-shot W100 – to help you view subjects near and far. You'll never miss a shot with up to 360 shot* STAMINA battery life using the supplied LITHIUM-ION rechargeable battery, and thanks to the energy efficient Sony Real Imaging Processor. The processor also enhances the shooting experience, keeping pictures sharp, colours real, and ensuring an extremely rapid camera operation. As well as automatic modes for quick shooting and ease of use, the Cyber-shot W100 also offers manual exposure settings suitable for the more creative photographer. Perfect for people who want a stylish compact camera with a classic camera feel, combined with superb image quality and flexible shooting options.
Thanks to the Cyber-shot W100 and W70's High Sensitivity 'Anti-Blur' technology you can shoot in difficult conditions, such as low light, reducing the risk of hand shake blurring your pictures. It also allows you to capture moving objects with less blur, likewise you can be moving (such as in a car) shooting a stationary object – an option that is not possible if you're just using a camera with an optical image stabiliser. High Sensitivity even allows you to shoot with out the flash, resulting in pictures that are as sharp as when using a flash but far more naturally lit. Traditionally High Sensitivity would lead to an increase in noise, however utilising the Sony developed Clear RAW NR feature, the signal to noise ratio is greatly improved. The Sony Clear RAW NR original algorithm system reduces colour and luminance noise, enabling shooting with significantly higher sensitivity (up to ISO1250 on the Cyber-shot W100 and ISO1000 on the Cyber-shot W70). This ensures images with less noise and finer detail. This is especially beneficial when shooting in low-light conditions. Using the new 2-second self-timer mode is a further aid to reducing camera shake associated with pressing the shutter button. You can relax in the knowledge that your photo opportunities will be never limited, and the results stunning every time.
Packaged in a sophisticated and slim all aluminium metal bodies – they ooze quality and style. The Cyber-shot W100 adds to this with a special luxury-style 'etching-treatment' of the camera body, unique in the Cyber-shot range. Both cameras include a large 2.5-inch (6.2 cm) LCD screen, with 100% LCD screen field of view – allowing you to clearly frame, view and review images with ease. The new direct display brightness adjustment option prevents the need to access the menu to make adjustments to the screen's brightness. In addition to sharing your favourite pictures on the large LCD screen, images can be viewed on a connected TV screen. With the 16:9 shooting mode you can even shoot wide-screen images for playback on a wide-screen TV. Of course, images are also stored on optional Memory Stick Duo or Memory Stick PRO Duo for you to save on a PC or print out. Both cameras feature a worry-free internal memory (64MB on the Cyber-shot W100 and 58MB on the Cyber-shot W70), so you can be safe in the knowledge that you will never miss a great photo opportunity again. They both also features high speed USB 2.0 and PictBridge, the standard for printing directly to compatible PictBridge photo printers, such as the Sony DPP-FP50. The new Cyber-shot Viewer software that is supplied with both cameras offers a fast and easy to use solution for importing pictures to your PC, browsing and sharing your pictures using a new and unique calendar function, or even making simple edits such as resizing or trimming.
In addition to the existing Standard, Monochrome and Sepia colour modes, both cameras offer the additional creative choice of Natural and Vivid colour modes. The Natural mode is ideal for situation with subtle colour, and the Vivid mode emphasises primary colours with more detail, vividness and colour depth. Other great features include convenient Scene Selection shooting modes to capture the mood of every moment. For Twilight, Twilight Portrait, Landscape, Soft Snap, Beach and High Sensitivity (plus Snow on the Cyber-shot W70), just point and shoot while the automatic settings do all the hard work and produce excellent quality images. If you're not sure which is best for your shooting situation, then don't worry, as the function guide will display an accompanying explanation of the Scene Selection mode. If you wish to be more creative with your photography then several different Light Metering options, a Histogram display, special Flash specific and Multi-burst shooting modes are also available, plus the Cyber-shot W100 adds the extra flexibility of Manual Exposure control.