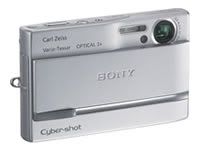 Digital Photography Interface has posted a Sony Cyber-shot T9 review where they write: "There are something's the T9 lacks like improved movie mode (with zoom, maybe?) since that same old VGA 30 FPS movie mode has been there for ages! Image quality (in terms of sharpness and edges) should be improved – It's been like that over the past 6 T-series cameras. I think that the Sony Cyber-shot T9 is an acceptable camera with an excellent macro mode, low-light capabilities (except the LCD) and portability. But if you expect excellent image quality or manual controls, this is not your camera!"
Imaging Resource have reviewed the Sony Cyber-shot T9, here's an excerpt from that review: Arguably the best model yet in Sony's diminutive Cyber-shot "T" series, the Sony Cyber-shot T9 delivers good picture quality and a great feature set in a rugged, super-compact all-metal body. The 6.0-megapixel CCD is an nice feature in a camera this small, and the large LCD monitor is quite impressive as well. The Sony Cyber-shot T9 showed good image quality, with good colour, and high resolution. The Sony Cyber-shot T9's image sharpness and noise levels aren't quite up to the level of the best full-sized 6.0-megapixel cameras out there, but they're very good for a subcompact model. Relative to competing full-sized digicams, the Sony Cyber-shot T9 does have rather limited low-light capability and marginal flash power, but that's to be expected in a digital camera of this size. The Sony Cyber-shot T9's flexible exposure modes and features give the digital camera the versatility to handle most common shooting situations with aplomb. The digital camera's light weight and portable size are perfect for travel. New features such as the Steady Shot option and the ability to download music for slide shows are interesting additions to the T-series as well, increasing the Sony Cyber-shot T9's value and usefulness. Overall, the Sony Cyber-shot T9 is an excellent option for busy consumers looking for a tiny digital camera that performs very well as a point-and-shoot.
Cameras.co.uk has reviewed the Sony Cyber-shot T9, here's what they say: There is a lot to like about the Sony Cyber-shot T9. I was very impressed by the camera when it came to picture quality. There was just one problem that was noticeable with the camera and that was the dreaded red eye…. The plus points of the Sony Cyber-shot T9 far outweigh any negatives. Picture quality is very good and Sony appears to have nailed shutter lag. I am happy to recommend this digital camera to anyone looking for a good quality pocket sized model. Be warned it doesn't come cheap though.