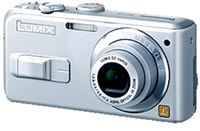 Imaging Resource have posted a comprehensive Panasonic Lumix DMC-LS2 review and write: "The Panasonic Lumix DMC-LS2 is just a simple point and shoot digital camera at first blush, with a 3x zoom in a small, simple body. Panasonic's MegaOIS Optical Image Stabilization technology makes it all the more exciting, though. Image stabilization is becoming a hot feature, capturing sharper images in lower light at low shutter speeds without raising ISO, and Panasonic has incorporated it across their line-up. Unfortunately, the LS2 needs the optical image stabilization to make up for its shortcomings in terms of low light and flash performance. Auto white balance performs well, nonetheless, and we appreciated its tame approach to sharpening and colour saturation. The Panasonic LS2 also offers 5 megapixel resolution good macro focusing, and excellent battery life. The Panasonic Lumix LS2 is a good little camera, and clearly one of the best bargains on the market for an optically stabilized digital camera."
DigiCam Review has published a Panasonic Lumix LS2 review and write: "The Panasonic Lumix LS2 is a budget digital camera from Panasonic, but it is very difficult to see where they have "compromised" in any way to reduce the price – the only missing features appear to be the lack of sound on videos and the smaller than average 2″ screen. Despite the budget price, Panasonic produce a very good camera, providing optical image stabilisation, an orientation sensor, custom white balance, features rarely seen on budget models. The camera also produces excellent image quality, with good dynamic range, detail and sharpness, along with very good, accurate, life-like colours with high saturation. The camera is very easy to use with a normal / auto mode, numerous scene modes and a "Simple" mode. If you want a camera with manual controls then this isn't it, but if you want a budget point and shoot camera that's full of features, and capable of taking great photos, then the Panasonic Lumix LS2 is recommended!"
Steves Digicams has reviewed the Panasonic Lumix LS2, they write: "The LS2 is quite the performer, especially for an entry-level camera. From power up to first image captured measured only 2.5 seconds. Shutter lag was almost absent when pre-focused, measuring less than 1/10 of a second, and only 4/10 of a second including autofocus. When shooting a sequence of shots in single exposure mode, the shot to shot delay averaged 1.6 seconds without using the flash, slowing to between 2.8 and 4 seconds with the flash (depending on subject distance and battery life.) The LS2 offers three Burst mode settings to choose from (Low-speed, High-speed, No-limit.) Using the Low-speed setting, I was able to capture 3 frames in about 1.1 seconds. High-speed captured 3 frames in approx. 6/10 of a second. No-limit mode allows you to continuously capture images at about 1.5fps, limited only by available memory."
Digital Camera Info have an in depth Panasonic Lumix LS2 Review, here's what they have to say about the camera's speed and timing: The Panasonic Lumix LS2 takes a second or two to start up – not long for a compact camera, but long enough that the user should keep it on in situations where a shot might come up suddenly. Panasonic notes that their Venus processing engine speeds up shutter response, though the autofocus system adds a delay between pressing the shutter and the actual shot. Users will have to learn to anticipate their shots a bit. This is common with compact cameras in general, and it's a source of frustration for many users.
The Panasonic Lumix LS2 has three burst modes, called High, Low and Infinite. Panasonic reports that High shoots at three frames per second and Low at 2 fps. We can't verify those numbers in this first look, but we'd note that burst rate is measured from the first exposure to the last – not from when the shutter is pressed. The shutter lag remains. In either High or Low modes, the Panasonic Lumix LS2 will shoot three Fine quality 5 megapixel images. Infinite mode is much slower, but will continue for as long as there room on the SD card to hold the images.
Photoxels have reviewed the Panasonic Lumix LS2, here's a little from the review about the digital camera: The Panasonic Lumix LS2 is very affordable and easy-to-use. Image quality is average and on the noisy side. It would be suitable for entry-level and first-time digital camera users who will be mostly printing at 4×6 in. and displaying for the Web. To many, the very effective Image Stabilizer will be the main selling point: it helps avoid blurred pictures due to camera shake.