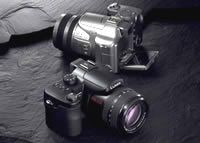 imaging-resource have written a review for the Panasonic Lumix FZ30, heres a summary: Though Panasonic was late offering a wide array of digital cameras, they've produced some excellent and very popular digicams in the last few years; particularly in the long zoom category. The Panasonic Lumix FZ30 combines a 12x optically stabilized zoom lens with an 8.0-megapixel sensor, a host of features, and a new burly look designed to entice novice and enthusiast in a market that's swinging toward the SLR. (Panasonic Lumix FZ30 is very similar to the FZ20 model, the biggest difference being its 8.0-megapixel CCD vs. the 5.0-megapixel chip on the FZ20, and a handful of minor control updates. It is not an SLR.) True to its Leica heritage, the Panasonic Lumix FZ30's long zoom shows very good optical quality, and the rest of the camera happily measures up as well. Read on for all the details, but if you're in the market for a long-zoom digicam with optical image stabilization, the Panasonic Lumix FZ30 looks like a good bet.
Read more about the Panasonic Lumix DMC-FZ30
CameraLabs have reviewed the Panasonic FZ30, here's a little from that review: Panasonic's DMC-FZ30 is an 8 Megapixel all-in-one 'bridge' camera with a powerful 12x optical zoom lens and SLR-like styling. Like other long-zoom bridge cameras, Panasonic's aiming the FZ30 at buyers of budget Digital SLRs, with key advantages including LCD-based composition using a flip-out screen, movie mode and of course a lens with a considerably longer focal range than the typical 3x kit SLR lenses.
And by considerable, we're not kidding: the Panasonic Lumix FZ30's 12x lens has an optical range equivalent to 35-420mm on a 35mm camera. This takes you from a reasonably wide angle to an incredible telephoto – and better still, unlike its predecessor, the Panasonic Lumix FZ30's lens doesn't extend.
DigiCamReview has reviewed the Panasonic Lumix FZ30 digital camera, they say: The Panasonic Lumix FZ30 is an excellent ultra zoom digital camera, offering excellent image quality, an excellent Leica 12x optical zoom lens with image stabilisation, and a manual zoom ring. The high resolution 2" swivel screen is very good, and the camera is very good value for money. The easy to use camera offers speedy performance, good battery life, with good controls and excellent build quality thanks to a solid metal camera body. I would highly recommend this camera, especially to people who like it's SLR styling, although be aware that noise is on the high side. If you can stick with the lower ISO settings or only wish to print small images then this camera should be high on your shopping list! I'd recommend trying the camera before purchase, as this camera is definitely large when compared to your average sized ultra zoom camera.