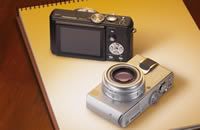 PC Mag has reviewed the Panasonic Lumix DMC-LX1 and write: "If you're looking for a compact landscape shooter, consider Panasonic's Lumix DMC-LX1 ($599.95 direct). Although it's not a perfect all-around camera, it gets big props for being the first digital camera with a true 16:9 CCD. Other cameras can shoot at this aspect ratio, but they achieve the result by cropping, reducing the number of pixels in the image. The LX1 is the first camera of its kind with a true 16:9 CCD. As a result, you get the full 8.4MB of information in every panoramic shot. Still, the images show more noise than we'd like from a $600 camera, and the camera isn't particularly speedy."
Megapixel has reviewed the Panasonic Lumix DMC-LX1 and writes: "The LX1's primary metering mode, called Multi, is a type of averaging that measures the light at various points in the frame and combines these readings into a single overall set of shooting parameters that will produce a good overall exposure. Indeed, the metering is accurate and regularly yields good exposures, albeit with a slight tendency to give preference to lowlights over highlights. Likewise, the default colour saturation settings produce accurate colours which are not overly vibrant, an indication that the Auto white balance setting is reliable under most circumstances."
Creative Pro have reviewed the Panasonic Lumix DMC-LX1, here's a little snippet about the camera's performance: The Panasonic Lumix DMC-LX1 is a respectably speedy camera for a point-and-shoot. With a burst rate of around 3 frames per second (when using a fast card) and a peppy interface, the camera feels very responsive. There's no discernable shutter lag, and playback and deleting is snappy. The camera (Panasonic Lumix DMC-LX1) powers up and wakes from sleep very quickly, as well.
That said, if you're used to a fast SLR (5 FPS or better), the burst shooting mode will be something to get used to. Also, if you're going to do a lot of raw shooting, invest in fast media. If you use a standard-speed SD card, you can forget about shooting bursts in raw mode. Writing out a full 8.4-megapixel raw file can take a while on slower cards.
Trusted Reviews has reviewed the Panasonic Lumix DMC-LX1 digital camera, here's an excerpt from the review: The Panasonic Lumix DMC-LX1 is an interesting camera, with several nice features and the ability to take a decent picture, but its image quality isn't really high enough to compete in the kind of market that its price would suggest. For £100 less it would be a bargain, but there are better cameras around for less.