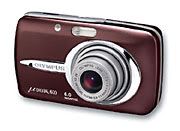 The 6.0 megapixel Olympus Stylus (Mju) 600 Camera completely caters to the special needs of night-time revellers. Using the innovative BrightCapture Technology, this new model brings reliable, high-performance shooting directly to the next party, rock concert or candle-light dinner.
The Olympus Stylus (Mju) 600 Camera is a genuine bright spark on the digital camera scene. Its 6.0 megapixels and precision 3x zoom lens (equivalent to 35-105mm in 35mm format) help capture images in amazing quality. 23 scene modes are on board that cover just about any shooting situation such as portraits, landscapes or even for underwater shots (in conjunction with the optional Underwater Case). The weatherproof* Olympus Stylus (Mju) 600 Camera also gives users movie recording and the facility to take astonishing close-ups in Super Macro mode. Moreover, thanks to the Guide Function, which reveals the purpose and recommended use of the various camera functions directly on the huge 6.4cm LCD, the Olympus Stylus (Mju) 600 Camera is exceedingly easy to use.
However, the real coup of this stunning, ultra-compact Olympus Stylus (Mju) 600 Camera is its extraordinary night-time shooting ability that dramatically enhances the framing of compositions and the subsequent image results. Incorporation of BrightCapture Technology makes framing compositions under low light conditions a breeze. A mere 1/5th of the regular luminosity is required for clear depictions on the LCD – without this technology these views would otherwise be lost in darkness. BrightCapture Technology also provides better images in low light. Special scene modes like Indoor and Available Light Portrait use this technology. The result: better exposed images, lower risk of image blur, and with Available Light Portrait, it is even possible to shoot without a flash more often. This is especially helpful wherever flash usage is prohibited or in order to show warm light ambience, for example.
Olympus Stylus (Mju) 600 Features
6.0 million pixels
BrightCapture Technology for better framing and better image results in low light including a special mode that reduces the possibility of image blur
6.4cm / 2.5" LCD
Weatherproof* metal body in Navy Blue, Ruby Red & Arctic Silver
High-precision 3x zoom lens (equiv. to 35-105mm in 35mm format) 1:3.1-5.1
23 scene modes (incl. Portrait, Beach and Snow, Night Scene and Underwater modes) plus Programme Auto
TruePic TURBO image processor
Movie function up to memory capacity
Macro and Super Macro mode (from 7cm)
PictBridge compatible
Multi-language menu (English, French, German, Spanish, Italian, and Russian) plus possibility to download further languages from the internet through the Olympus Master software
Special editing functions to enhance images and to add creative effects: e.g. red-eye-fix, adjust brightness, insert frame and/or title
Supplied with Olympus Master Software
Optional underwater case (PT-029) available
* weatherproof equivalent to the IEC standard publication 529 IPX4
Ideal for night owls who want to capture the fun of the night, the PictBridge-compatible Olympus Stylus (Mju) 600 Camera comes in a choice of three colours – Navy Blue, Ruby Red and Arctic Silver. Easy to use, incorporating 6.0 million pixels and equipped with the innovative BrightCapture Technology, the Olympus Stylus (Mju) 600 Camera is hard to top. It comes with the Olympus Master software and will hit the shelves in autumn this year.