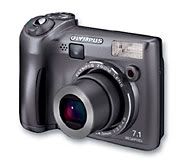 The Olympus SP-320 camera lets ambitious photographers live out their abounding imagination and produce compositions that ooze quality and individuality. In addition to 25 scene modes, P/A/S/M exposure control provides broad functionality that ensures absolute freedom in any photographic situation. Boasting 7.1 million pixels, the Olympus SP-320 camera possesses abundant resolution power for stunningly crisp and detailed images. The 3x optical zoom enhances flexibility by letting subjects be brought in close, while the high ISO setting capability of up to 800 makes great flash-free photography possible even when light is in short supply. A Histogram function enables exposure information to be displayed in shooting mode on the large 6.4cm LCD to give expert photographers the opportunity to fine-tune their shots for perfect results. Movie enthusiasts will cherish the possibility of capturing action with sound in VGA quality at 30fps. And for extra versatility, a wide range of optional accessories is available, including lens converters and an underwater case. The Olympus SP-320 camera's head-turning ergonomic design and surprisingly affordable price round out this robust camera's appeal.
7.1 megapixels in combination with a precision 3x zoom lens (1:2.8-4.9, equivalent to 38-114mm on a 35mm camera) let clear images be captured in stunning detail. Focusing options range from regular iESP autofocus, spot AF and multi-spot AF – selectable from 143 points – right through to manual focusing for setting personalised accents. The viewing of results is a pleasure on the Olympus SP-320 camera's large LCD featuring an impressive 6.4cm diagonal.
While automatic shooting is convenient and helpful, no dedicated photographer wants to do without manual control. That's why the Olympus SP-320 camera offers aperture priority, shutter priority and full manual exposure modes too. Users therefore are sure to have the freedom to satisfy their creative desires and compose images with their personalised signature. Furthermore, to help ascertain the optimal camera settings, a Histogram function is available to provide real-time exposure information. In addition, 25 scene modes are on hand for most shooting situations. And the high maximum ISO setting of 800 lets photographers capture the spirit of the night without using the flash.
Super Macro mode will thrill fans of extreme close-up photography, allowing image capture from as little as 2cm away. Of course a movie recording option is also among the many photographic possibilities the Olympus SP-320 camera has to offer. Action is captured with sound in VGA quality at 30fps and recording length is only limited by available memory capacity. Extending the scope of the camera even further, Olympus offers the TCON-17F conversion lens (requires use of CLA-9 lens adapter) for an amazing 193mm tele equivalent performance. Moreover, photographers can shoot in up to 40m depth using the optionally-available underwater case.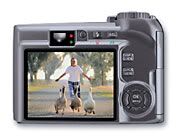 On top of the 25MB internal memory, the Olympus SP-320 camera features an xD-Picture Card slot. Naturally, the new Olympus High Speed xD-Picture Cards may be used which offer data transfer rates 2-3 times faster than conventional cards. Increasing flexibility, especially for subsequent editing on the PC, images can be stored in either JPEG or RAW formats. Thanks to USB Hi-Speed AutoConnect compatibility, downloading photos is also a swift affair and PictBridge compatibility means that printing is fast and easy too. Any printer adhering to the standard – such as the Olympus P-11 which takes just 33 sec. per 10×15cm print – allows printing without the need for a PC.
Olympus SP-320 Features
7.1 million pixels
Large 6.4cm/2.5" LCD
3x optical zoom (equiv. to 38-114mm on a 35mm camera) 1:2.8-4.9
P/A/S/M plus 25 scene modes
Super Macro mode from as close as 2cm
Histogram function in shooting and playback mode
Movie recording function (30fps, VGA) with sound, up to memory card's capacity
Long battery life
USB Hi-Speed AutoConnect
25MB internal memory for recording images
Unique ergonomic shape and robust body
Optional: tele converter TCON-17F with CLA-9 lens adapter and underwater case PT-030
RAW file format
The Olympus SP-320 camera is a powerful tool that lets ambitious photographers pursue their creative impulses. Its multiple manual control options, ergonomic design together with high performance attributes give this attractively-priced camera a unique edge. It comes with the Olympus Master 1.4 software and will be available from spring 2006.