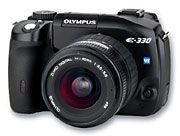 The Olympus E-330 digital SLR camera represents a breakthrough in digital SLR photography. For the first time* it gives users the freedom to see their subjects live on the Olympus E-330 digital SLR camera's tilting, multi-angle LCD. This means that macro photographers needn't lie in the mud to frame ground-level subjects any more, and portrait photographers can keep constant eye contact with their model or client. Moreover, underwater photographers will finally have the freedom to see what they shoot through their diving mask.
This innovation is made all the better due to superior image quality by using a highly advanced Live MOS sensor with 7.5 million pixels.
As with all Olympus E-System products, the Olympus E-330 digital SLR camera incorporates the Supersonic Wave Filter to protect the image sensor from harmful contaminants that can enter the camera during lens changes. Generating ultra-high-speed vibrations, dust and other particles that can affect image quality are shaken off and then captured on a special adhesive membrane. The function is invoked at each start-up of the Olympus E-330 digital SLR camera or can be manually executed at any time.
Catering to virtually all users' needs and preferences, the Olympus E-330 digital SLR camera offers a full manual exposure mode, semi-manual aperture or shutter priority options plus the convenience of automatic shooting. In addition, 20 scene modes and 7 creative modes will have the ideal solution in store for nearly every photographic situation. New features include an anti blur option, nature macro and xD-Panorama mode plus two underwater modes. The Olympus E-330 digital SLR camera's special Live View Boost function also increases the brightness of the view on the 2.5″/6.4cm HyperCrystal LCD for easy framing, even in dim lighting.
Numerous professional options ensure first-class image capture. A 49 area AE sensor with sophisticated AE algorithm, for example, provides accurate exposure values for ESP metering. Black & white shooting is available with the possibility to add colour filters – as used in analogue photography. A one-touch white balance option, AF-lock functionality and depth of field preview continue the pro-level features of the Olympus E-330 digital SLR camera. To evaluate exposure levels of individual compositions, the Olympus E-330 digital SLR camera offers a Histogram function. And with both CompactFlash and xD-Picture Card slots, this model gives photographers extra flexibility for extended shooting and lets them choose the type of storage medium they prefer. Olympus E-330 digital SLR camera users also have the choice between saving their data in JPEG, TIFF and RAW format.
Despite all these functions, the Olympus E-330 digital SLR camera is easy to handle. Thanks to the TTL optical porro design, the lightweight, ergonomic body is incredibly compact. To further enhance shooting ease, Olympus E-330 digital SLR camera users can choose the amount of on-screen information they want to see: from advanced information for experienced photographers to just the general details for beginners.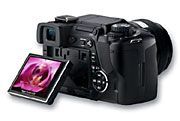 The full advantages of SLR photography are available to Olympus E-330 digital SLR camera owners due to compatibility with virtually the entire E-System range of accessories. In addition to the extensive line-up of lenses, specialised accessories such as various flash units are available too. And to allow the amazing potential of the Olympus E-330 digital SLR camera to be used even off-shore, Olympus offers the underwater case PT-E02 (waterproof up to 60m) from May 2006.
Olympus E-330 Digital SLR Camera Features
World's first* Live View digital SLR with two modes
7.5 million pixels Live MOS sensor
Multi-angle 6.4cm/2.5″ HyperCrystal LCD (215,250 pixels)
Supersonic Wave Filter for dust protection
TTL Optical Porro Finder design
Based on FourThirds Standard
Single AF, continuous AF and manual focusing, plus S-AF+MF and C-AF+MF
49 area AE sensor
ESP, centre-weighted average and spot exposure metering plus high light basis and shadow light basis spot metering
Professional AE lock functionality
Sequential shooting at up to 3.0fps
IR Hybrid Type Cut Filter for equalisation with human eyes
1/3 EV ISO steps
ISO up to 1600
TruePic TURBO image processor
P/S/A as well as full manual operation
20 scene modes, 7 creative modes plus 4 exposure modes
Dual slot for CompactFlash/Microdrives and xD-Picture Cards
Built-in pop-up flash
User-friendly with detailed and simplified display modes
Weight: 550g, size: 140×87x72mm
Compatible with the complete range of Olympus E-System lenses and many accessories, including the FL-36 flash and the ME-1 magnifier
Available as camera body only or in kit containing camera body, 14-45mm (28-90mm) 1:3.5-5.6 lens, BLM-1 rechargeable battery pack with BCM-2 charger
Optional underwater case PT-E02 available from May 2006
The Olympus E-330 digital SLR camera sets a new standard in digital SLR photography with the ability to deliver continuous live views directly on the LCD. Convincing with extraordinary image quality thanks to its 7.5 million pixel MOS sensor, the Olympus E-330 digital SLR camera hits the shelves from March 2006.