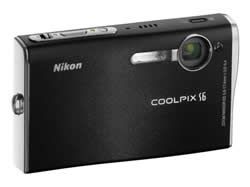 The Nikon CoolPix S6 is the trendy new 6.0 megapixel camera, featuring the S-Series' distinctive wave like body design. This new compact pocket camera from Nikon produces high-quality images, from the combination of its unique feature set and the partnership with the 3x Nikkor ED 35-105mm zoom lens.
The Nikon CoolPix S6 camera is provided with a 3.0" LCD display with a viewing angle of up to 170°, so the whole family or friends can view photos on the Nikon CoolPix S6 together. The "Auto Image Rotation" is also included with the camera, this function determines which way the photograph should be displayed, maybe you've taken a picture with the Nikon CoolPix S6 on it's side, rather then displaying the image on it's side the function flips the picture 180°.
The Nikon CoolPix S6 also includes more neat features, like the new rotary multi-selector, this allows the user to scroll through images at 10fps, together with dedicated buttons, on-screen icon and cursor makes sorting through photographs much easier. Another addition to the Nikon CoolPix S6 camera, is the portrait button, now positioned handily on top of the camera making it easier to get at the Nikon camera's other unique functions including; Face-priority AF, In-Camera Red-Eye Fix and D-Lighting.
The Nikon CoolPix S6 camera users have the choice of 15 photo scene modes and three video modes with audio. The digital Nikon CoolPix S6 camera also includes "Time-lapse" movie taking, enabling the director to make dramatic slow-mo films. The Nikon CoolPix S6 like the S5 also incorporates; USB connectivity and direct TV playback, Wi-Fi capability, so that photos can be moved from camera to the computer without the need for wires, PictBridge, print directly from the camera wirelessly with a PictBridge compatible printer, PictureProject image editing software and last but not least, the Cool-Station MV-15, batteries can now be recharged while still in the camera.
The Nikon CoolPix S6 digital camera should be available for purchase towards the end of March 2006 and the cost / price is expected to be GBP 349.99 or EUR 459.
The Black Nikon CoolPix S6 will be exclusively available at Jessops and the Grey Nikon CoolPix S6 available only from Comet, both in the UK.