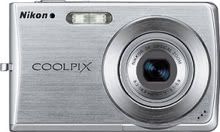 The Nikon Coolpix S200 is a 7.1 megapixel camera with 3x optical zoom and 2.5 inch LCD screen. The camera features VR image stabilization, ISO of up to 1000, 20 megabytes of internal memory and Nikon's 'D-Lighting' technology.
The Nikon S200 measures 91.5 x 56.5 x 18.5mm and weighs just 125g. It is expected to retail for the price of $249.95 (USD) when it is made available during April 2007.
Nikon Coolpix S200 News Release
In order to uphold its legacy of industry-leading technology that consistently delivers excellent results, Nikon is always seeking new ways to enhance the camera user's experience. The new Coolpix S200 model brings world-class photographic results to professionals and amateurs alike, packed into a sleek compact casing.
Measuring just 18.5mm, the stylish aluminium body of the Coolpix S200 blends an attractive design with modern features, demonstrating Nikon's commitment to quality state-of-the-art craftsmanship.
Combining 7.1 effective megapixels of image resolution with an impressive 38-114mm 3 x Zoom-Nikkor lenses, this camera is able to faithfully capture the detail of the closest portrait to the broadest panorama, even after enlargement of the shots.
Image quality is further enhanced by the Vibration Reduction function (activated in Anti-Shake mode), which compensates for camera shake and delivers clear pictures even in unsteady conditions. In combination with the High-Sensitivity mode which extends to ISO 1000, the VR function also enables the user to take quality photographs in lower light conditions.
Fast-moving and shaded shots present no challenge to the Coolpix S200, and the results can be enjoyed with friends on the ample 2.5-inch LCD screen. This also allows easy navigation of the new menu interface which offers quick access to a variety of exciting modes and functions.
Packaged within the Coolpix S200, three unique Nikon innovations make it possible to manipulate the images in-camera, enabling amateurs to achieve results that a professional would be proud of. Face-priority AF detects people's faces to achieve sharp focus on the face, no matter where they happen to be located in the frame; In-Camera Red-Eye Fix tackles this effect by providing automatic compensation for more flattering, natural-looking portraits in low light. Finally, Nikon's unique D-Lighting function improves underexposed images or shots taken with too many back-light, leaving well-exposed areas untouched.
Nikon's exclusive PictureProject software allows the user to further manipulate images once they have been uploaded onto a computer. This is an easy-to-use programme which makes it simple to edit, organise, transfer and share the photographs taken with the Coolpix S200.
Nikon Coolpix S200 Feature Highlights
The Coolpix S200 features electronic Vibration Reduction (VR) that allows users to overcome the effects of camera shake to produce satisfyingly sharp images. Taking data from a built-in angular velocity sensor, the system applies in-camera image processing to turn blurred images into beautifully sharp results. Anti-Shake mode also employs e-VR to deliver clearer, more stable images in diverse shooting situations.
ISO 1000 capability
Light sensitivity can be manually set as high as ISO 1000. This allows the use of faster shutter speeds to avoid blurred results when shooting moving subjects or in locations with insufficient lighting. A new image-processing engine with enhanced noise reduction and an improved signal-to-noise ratio preserves high image quality and demonstrates superior light sensitivity. In High Sensitivity mode, the ISO setting is automatically adjusted from ISO 50 to as high as ISO 1000 to ensure optimal exposure and carefree shooting in lower light.
Innovative Nikon in-camera correction features
The Coolpix S200 features a selection of three innovative functions that provide the ability to actually improve the quality of images within the camera. Face-priority AF automatically finds then focuses on people's faces for crisp, clear results time after time. In-Camera Red-Eye Fix automatically compensates to help eradicate traces of the annoying red-eye effect that can sometimes be encountered during flash photography. Completing the set is D-Lighting, which can be applied to improve underexposed images or shots taken with too much backlight. D-Lighting automatically creates a copy of the image with detail added where necessary, but with well-exposed areas left completely untouched.
Face recognition capability may be limited in some shooting conditions.
Nikon Coolpix S200 Other Features
Lightweight with slim, compact dimensions
Choice of 15 scene modes
Macro shooting enables shooting from as close as 10cm (3.9 in.)
Help button to display simple explanations for functions on the main menu
Large control buttons, including the Zoom button, are carefully positioned to simplify operation
Menu available in a choice of 20 languages
List by date
Date counter
Calendar function make it easy to locate a recorded image
Selection of movie recording modes
New Rechargeable Lithium-ion Battery EN-EL10 delivers high performance in a compact package
Time zone function allows setting of home town and new city time zone for easy image sorting after travelling
SDHC card compatibility
Approx. 20MB of internal memory
USB connectivity enables swift data transfer to computers and other peripherals
PictBridge support