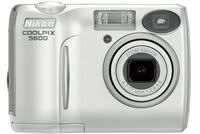 Whether you're a veteran or a relatively new digital camera user, you will get pleasure from the Nikon Coolpix 5600 as it is so simple to use. Crammed with heaps of versatile features designed to make it easier than ever before to take fantastic quality photos anywhere.
The distinctive Nikon innovative D-Lighting function adds light and detail to dark areas on your image. It works in the playback menu after a picture is taken. Ideal to brighten dark or backlit subjects. It works instantly and it's pc free.
Red-eyes appear often in the night portrait photos and can ruin your picture. Now your COOLPIX camera has a solution, after activating the feature, the Nikon Coolpix 5600 detects, and then corrects most common red-eye photos. It's quick, and it's pc free.
Packed in a compact and lightweight body, the Nikkor 3x optical zoom lens gives you the possibility to zoom in and still see the clear and crisp detail of your subject.
Try out 16 pre-programmed scene modes such as beach/snow, night portrait or museum. Find out how easy it is to use the Nikon Coolpix 5600 even in a museum where flash photography is prohibited.