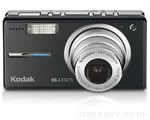 The Kodak EasyShare V603 is the latest addition to Kodak's V series of pocket digital cameras. The stylish and easy to use Kodak EasyShare V603, is a 6.1 megapixel camera which is crammed full with features and is available for a very attractive price.
The 6.1 megapixel Kodak EasyShare V603 digital camera incorporates a Schneider-Kreuznach Variogon lens, equipped with 3x optical zoom, auto focus and built-in flash the camera is able to capture video at thirty frames per second and with image stabilization technology, produces TV quality blur free images without camera shake.
On the back of the Kodak EasyShare V603 you'll find a 2.5" LCD display, great for reviewing images and along with Kodak's image editing software, the camera's screen is the perfect size for cropping and adding that finishing touch.
The Kodak EasyShare V603 comes with 32MB of internal memory, the camera's storage is expandable with the use of SD memory cards. This latest digital camera is powered by Li-Ion rechargeable batteries, Kodak KLIC-7002.
The Kodak EasyShare V603 digital camera will be available in two colours, silver and black. The camera should cost about US$299, I currently have no idea of when the camera will be available in the UK.