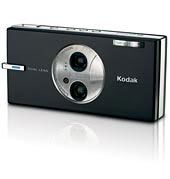 Lets Go Digital has reviewed the Kodak EasyShare V570 Digital Camera and write: "Concluding, I believe that, with the introduction of the Kodak EasyShare V570, Kodak have ventured on to a path that is not necessarily a dead-end. The dual-lens system offers potential, and will appeal instantly to a certain share of consumers. It should be said, however, that the system has not yet fully matured, which leaves Kodak room for improvement. The operation is as one would expect of a Kodak EasyShare digital camera; straightforward and with the emphasis on user-friendliness. The negative sides of this camera seem to be evened out by its plus points. Therefore, we give Kodak the benefit of the doubt, and appreciate the concept that has brought attention to the Kodak EasyShare V570″
PhotographyBLOG has published a Kodak Easyshare V570 review, they gave the digital camera a rating of 4 out of 5 stars and write: "The Kodak Easyshare V570 isn't the fastest camera available, with the zooming mechanism and continuous shooting being particularly slow, although focusing in both good and low light situations is fast and accurate. The 5 megapixel sensor is modest in this day and age, but more than adequate for prints up to A4 in size. Image quality is only average, with noticeable noise and blurring at ISOs 200 and 400, which means that the V570 is best suited to situations with adequate lighting, especially if you want to make larger prints. The Kodak Easyshare V570 is just a simple point and shoot camera in terms of creativity, with no control over aperture or shutter speeds, but Kodak have gone to great lengths to make the V570 easy to use, with a wealth of playback and sharing options available. Overall, despite only average image quality and some elements of slow operation, the Kodak Easyshare V570 is an intriguing and fun to use digital camera."
CoolTechZone has posted a Kodak EasyShare V570 review where they write: "The Kodak EasyShare V570 is definitely targeted at beginners. It provides impressive results if used in auto mode as a simple point-and-shoot camera. At the same time, as consumers become more familiar with this camera, they would obviously want to tweak a few settings. The V570 will let them do that as well, albeit to a limited extent. It will let you set exposure compensation, white balance, colour mode, sharpness as well as ISO speeds to allow select flexibility. Unlike some of the cameras with a complicated menu system, the V570 lets you set these pretty easily and without much fuss."
Imaging Review has reviewed the Kodak Easyshare V570 dual lens camera and write: "The Kodak V570 presents an interesting problem for us. It's a camera with a lot in the plus column and a lot in the minus column; yet it still nets out as a positive experience. We really like the camera for its unique dual lens arrangement that includes a surprisingly useful 23mm wide angle lens, but its image quality really isn't as good as it could be for a 5 megapixel camera. Its fully automatic exposure control performs very well in a wide variety of conditions, requiring less exposure adjustment or tweaking than do most competing models."
Popular Photography has reviewed the Kodak EasyShare V570 and comments: "In our lab tests, the V570 fared well. Despite the fact that its colour space is limited to sRGB, the camera scored an Extremely High rating (Avg. Delta E: 9.37) in our colour accuracy test. In resolution, it achieved a Very High rating. And, like most compacts, noise was its worst attribute. While noise was Very Low at ISO 64, it jumped to Low at ISO 100, Moderate at ISO 200, and was Unacceptable at ISO 400. The V570 has an ISO boost mode that lets you shoot at ISO 800, but reduces the pixel resolution to 1.3MP. At ISO 800, the V570 scored an Unacceptable rating."
CNET has reviewed the Kodak EasyShare V570, here's their view: Because its unique lens set-up's versatility is the hallmark of the Kodak EasyShare V570, we'd hoped for better image quality. The 3X zoom lens offered about the same image quality you'd expect from a run-of-the-mill 5-megapixel camera, while the fixed-focal-length lens performed about the same, except with that impressive ultra wide view. Both lenses suffered from purple fringing and a touch of blooming. While the 23mm lens's optional barrel-distortion correction did a good job, its faux zoom function provided too much of a quality penalty to be used seriously; we quickly switched digital zoom off completely.
A limited dynamic range, manifested by highlights that were easily blown and shadows that were often too dark, was accompanied by abundant JPEG artefacts. Our images also showed noise that became easily noticeable at ISO 400 and more objectionable at the ISO 800 setting that can be used when the camera is set to 1.8-megapixel resolution.
However, we liked the colours this camera (Kodak EasyShare V570) produced. Blues and reds were fully saturated and brilliant, and flesh tones had only a slight reddish cast. The camera's red-eye-prevention preflash eliminated most–but not all–of the red glow in human pupils.
Digital Camera Resource has reviewed the Kodak EasyShare V570 and write: The Kodak EasyShare V570 is a 100% point-and-shoot camera, with no real manual control, save for a limited slow shutter speed mode. Beginners will appreciate the scene modes on the camera, which cover virtually all possible scenarios. The built-in panorama stitching tool is nice, and it would be nicer if Kodak gave you the option to keep the original photos. The Kodak EasyShare V570's VGA movie mode is quite nice (you can zoom during filming), and the MPEG-4 codec lets you record longer movies than on most other cameras. Like all Kodak cameras, the built-in EasyShare system makes e-mailing and printing photos a snap. Camera performance was generally very good. While the camera won't win any awards for its startup speeds, it does focus and shoot quickly, with minimal delays between photos. The two areas in terms of performance where the Kodak EasyShare V570 falls short are low light focusing (not great) and battery life (poor).
Steves Digicams has reviewed the Kodak Easyshare V570, here's an excerpt from that review about the digital camera: The Kodak EasyShare system is a tempting solution for families wanting point-n-shoot simplicity and ease of home printing. The Kodak Easyshare V570's automatic and scene modes produce pleasing, although somewhat soft, 5-megapixel images without any fuss. Its greatest appeal will be to those who shoot primarily indoors, the class-leading 23mm ultra wide lens providing a field of view that makes shooting in cramped interiors a breeze. The 5-megapixel Kodak Easyshare V570 is a bit pricey at an MSRP of US$399, but if style, simplicity and wide field of view matter to you as much as image quality, the Kodak Easyshare V570 is a reasonable value. Combined with Kodak's Printer Dock Series 3, it will produce a lot in terms of quality and fun for under US$550.